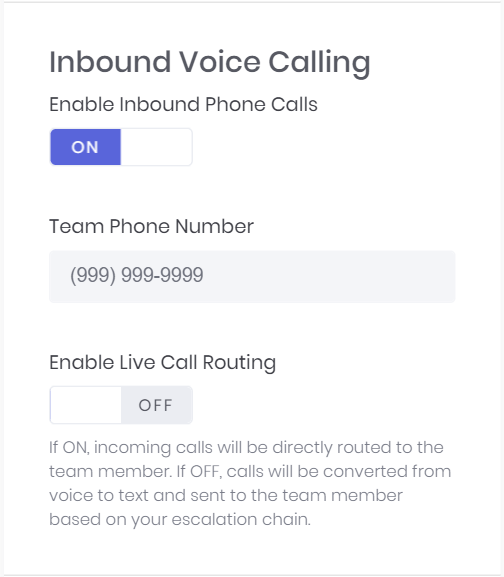 Receive Alerts from Phone Calls
Let others call your team and leave a voicemail that's transcribed automatically.
Inbound phone numbers allow you to create a unique phone number for each of your teams. You can provide this phone number to anyone that you want to be able to reach your team so that they can contact whomever is on-call.
When someone calls the team's inbound phone number, and the team doesn't have Live Call Routing enabled, they'll be asked to leave a voicemail message.
The voicemail message will be immediately transcribed and converted to an alert in Tropos Alerts. This alert will be sent to your on-call team based on your team's Escalation Chain.
Example Use Cases:
Share the team phone number with important clients so that they can get emergency support.
Have your IVR forward calls to the team Tropos Alerts number after hours.
Avoid your NOC (Network Operations Center) calling the wrong person. They only need one number per team.
Inbound Phone Numbers use the equivilent of 100 notifications / month + an average of 1 notification per minute during the active call.
SMS Works, Too
Create new alerts and incidents from an SMS message, or forward directly to your on-call.
Inbound phone numbers also allow your team to recieve SMS messages. Once an SMS message comes in, it can be converted to alert so that it can be processed by your routing rules or you can have the text forwarded to an on-call team member.
Inbound Phone Numbers use the equivilent of 100 notifications / month + 1 notification for each incoming SMS.